AGA and Rayburn Range Cooker Servicing Cornwall
An AGA is no slight investment and deserves to be treated as such. As with any large appliance, regular servicing will prolong the working life of your AGA and ensure that it remains in the best condition possible.
Range Cooker Servicing are proud to be Cornwall's premier range cooker servicing specialists. Our team of specialist engineers are trained to work with most major brands of traditional range cookers, such as AGA, Rayburn and Rangemaster. We can service your cooker even if it wasn't originally purchased from or installed by us.
We can schedule service visits either as part of an ongoing maintenance plan or a one-off visit. The service visits are scheduled at a time and date to suit your convenience. Over the years we have worked with range cookers of all sizes and fuel types, including solid fuel, oil, and 13amp electric.
Please ensure that your range cooker is turned off from the night before, so that it's sufficiently cool for our engineers to thoroughly inspect the interior.
Because of this, it's recommended to schedule your service visit in the warmer months where the ambient heat won't be sorely missed.
AGA Cooker Repairs
Range Cooker Servicing understands that if your AGA fails to function as intended, you will be missing out on more than just a way to cook food. This is why we have a 24 hour call out service for emergency AGA cooker repairs.
Our team of specialist engineers are available to carry out repairs on any type of AGA cookers regardless of fuel type. We particularly specialise in emergency boiler issues which could have an adverse effect in the colder winter months. We will always bring all the necessary equipment to allow for a thorough diagnosis. If any spare parts are required, Range Cooker Servicing readily have a range of genuine parts in stock in our purpose-built showroom in Redruth. These can be additionally purchased separately from our online shop. If possible, we will always carry out the repair in-situ in a single visit to minimise the disruption to your home.
We can additionally carry out repairs on other brands of country range cookers such as Rayburn and Rangemasters. This service is extended to cookers not installed by ourselves across Cornwall. AGAs and Rayburns are known for their robust build quality and durability; many working units have faithfully offered decades of efficient service (and still going strong!), so don't think that your AGA is on its way out simply because due to a small fault- please call us on 01209 214 774 and see how we can restore it back to full working order.
Rayburn Spares Cornwall
Our purpose-built workshop in Cornwall is home to a large range of genuine Rayburn range cooker parts. These parts are either sourced directly from the manufacturer or mericulously reconditioned from older units. All parts have been carefully inspected by our engineers to ensure their quality and safety.
Whether you need a replacement hot plate or a flue box, you can find it here at Range Cooker Servicing. All of our staff are trained on the internal anatomy of a variety of cookers so if you are unsure if the part will fit your Rayburn cooker, please simply call us to speak to a member of our knowledgeable team. Our expert engineers will be more than happy to advise on the compatibility of the part for your cooker.
Please visit our Online Shop to browse our range of Rayburn spare parts. Our rayburn spares can be shipped to any location in the UK or Europe. If you are located in the Cornwall area, we can offer a delivery and installation service for a small charge.
AGA Spare Parts
You will find a comprehensive range of AGA spare parts in our showroom in Cornwall, including boiler plates and even replacement oven doors. The majority of our parts are sourced from reconditioned units which have delivered years of reliable service.
Due to AGA's renowned build quality, many of their parts can be reconditioned and put to good use even if the main components have failed to function. Range Cooker Servicing will only sell genuine AGA spare parts which have been carefully inspected by our engineers to make sure they are safe to use in a working unit. Our team of expert engineers will be more than happy to provide guidance to which spare parts are compatible with your cooker.
Our AGA spare parts can be shipped throughout the UK, with delivery and installation available in Cornwall for a small additional cost.
AGA Electric Conversion Cornwall
When the AGA was first developed, the only fuel option was solid fuel. As technology developed, the most common fuel options are now oil, gas and 13amp electric. In recent years, the popularity of the electric AGA has soared due to it's versatility.
Electric AGAs do not require a chimney or flue, massively increasing their placement options within the kitchen and compatibility with modern homes. They are also known to be more cost-effective and require less maintenance. An oil or gas AGA should be serviced annually, when an electric AGA only needs an inspection every 5 years. Electric AGAs are also ideal for more rural homes which may not have mains gas available in their kitchen.
Range Cooker Servicing offer an AGA electric conversion service in Cornwall which converts your existing AGA to be powered by 13amp electricity. The conversion process takes no more than a day and can be carried out with the AGA in-situ, saving you the hassle of removing the old one and installing another. It's also a more efficient option in comparison to selling your existing AGA and sourcing the perfect model. If you would like more information regarding this service, please visit our Conversions page, or simply get in touch via 01209 214 774 and speak to a friendly member of our team.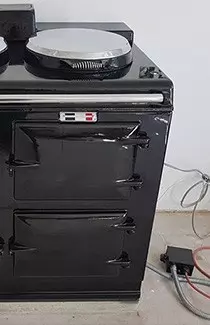 Reconditioned Range Cookers for Sale
Range Cooker Servicing are proud to have one of the largest reconditioned range cooker showrooms in the UK. We have a fantastic range of AGA and Rayburn cookers which have been meticulously restored by our team of expert engineers.
On average, you could save thousands of pounds when you purchase a reconditioned range cooker instead of a new one. Due to their robust build quality with British cast iron, there are zero compromises on the quality and condition of cooker you will receive. All of our cookers are supplied with 12 months warranty guarantee for your maximum peace of mind. When you purchase a reconditioned range cooker from us, we can additionally re-enamel it to a colour of your choice at a small extra cost. Our AGA range cookers are delivered and installed in all Cornwall postcodes with no extra cost.
Range Cooker Servicing
AGA House
Scorrier Road
Redruth
Cornwall
TR16 5AA
Call Us
Social Media