Range Cooker Spare Parts
Due to their superior design and build quality, AGA and Rayburn cookers are known for their longevity and durability. Even when the main component has failed, many of its smaller parts can be reconditioned and used as spares to repair other units.
If you have issues with your oven, don't hesitate to call your local range cooker engineers on 01209 214 774 and we will be more than happy to help. We have a range of oven replacement and cooker spares in our showroom, available to purchase online. Our parts can be shipped throughout the UK; if you are located in Cornwall, we can arrange for delivery and fitting with a small charge.
Finding the parts you need has never been easier...
Trying to source a single part can be a colossal hassle, especially if the piece is small and rare. Range Cooker Servicing are proud stockists of genuine AGA and Rayburn spare parts- all of our parts sourced from reconditioned units which have been carefully inspected by our engineer to ensure their quality and safety.
If you are unsure of the sizes or compatibility of a range cooker spare part, please simply get in contact and one of our trained team members will be more than happy to provide advice and guidance.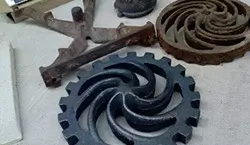 Our team is knowledgeable about the parts that we sell. They will, therefore, offer you valuable information about the parts you need and how you will install them. Besides, we have a wide range of parts, some of which you may not find elsewhere. Compared to other companies in the same industry, we have the lowest prices. Our services are customised so that each customer gets the most fulfilling services.